What is Nominet?
Nominet is the official registrar and administrator of .UK domains, which currently manages about 13mil .UK domains. They regularly publish press releases, statistics, news and on unpleasant things news about blocking websites. The latest report they published on November 21 2019 and mentions the blocking of more than 28,000 websites running on .UK domains which have been suspended for a crime. This number is the result of comparison over the last 12 months and ends in October 2019.
Statistics of blocked domains
The crime report shows that the number of .UK domains suspended between November 1, 2018 and October 31, 2019 recorded a small year-on-year decrease to a total of 28,937, down from 32,813. This represents approximately 0.22% of the more than 13 million .UK domains that are currently registered.
Most sites are  blocked related to intellectual property infringement. Nominet received 28,606 requests from the Police Intellectual Property Crime Unit (PIPCU). Other reports are from the NFIB (National Fraud Intelligence Bureau), which is the office for cyber security. Others for example from National Fraud Intelligence Bureau (178) and Trading Standards (90), Financial Conduct Authority (48) and the Medicines and Healthcare Products Regulatory Agency (31).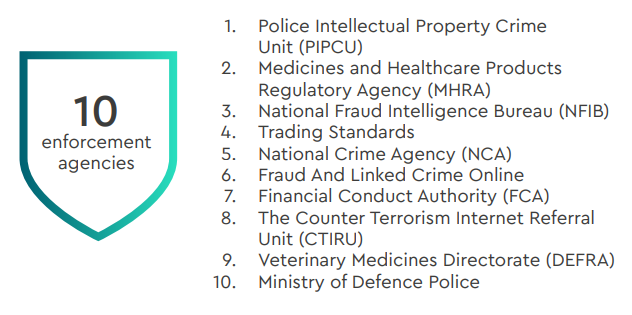 The number of requests that didn't result in a suspension was 16 – down from 114 in the previous year (between November 1, 2018 and October 31, 2019). Reasons for requests not resulting in suspension include the domain already being suspended due to a parallel process, the domain already being transferred on a court order.

The report also contains information about domains which were suspended and blocked under the terms of Nominet, which were introduced in May 2014. More than 1,600 newly registered domains have been identified as potential violations, but no suspensions have occurred.
The Internet Watch Foundation, which is engaged in protection against child sexual abuse material (images, videos, etc.) has not filed a single domain block request in recent years, which is a very positive message.
Nominet's anti-phishing protection
Nominet uses its own anti-phishing (wiki: Phishing) protection during domain registration. This tool has automatically blocked 2688 domains when registering.
If a domain is marked as potentially dangerous – by this tool, it is not generated into the DNS zone and is pending for manual checking by Nominet to eliminate the threat of using the domain for fraudulent purposes.
When a domain is suspended the registrant will receive an e-mail informing them of what has happened, along with other necessary steps he/she must take if he/she is convinced that it has been wrong. With the help of an additional check, 274 .UK domains were unblocked, which were then successfully registered and put into operation.
Examples of domains which is blocked by this anti-phishing protection
Private Sector:
login-micorosoftoffice.co.uk
office365-loginsecure.co.uk
netfllx.uk
billings-amaz0n.co.uk
barcleys.uk
hsbcbankonlinetransfer.co.uk
Public Sector:
british-gov.uk
hmrc-taxrefund-gov.co.uk
govuk-companieshouse.co.uk
hmrc-gov.org.uk
Nominet's CEO comments on the reduction in .UK domain blocking:
"It's encouraging to see that our efforts, working closely with the law enforcement community, are having a demonstrable impact on the ability of those intent on causing serious mischief online. We will not tolerate .UK domains being used for criminal activity. Suspensions have fallen for the first time since 2014 indicating that using collective established processes combined with technology-driven interventions is, it seems, acting as a deterrent."
source: https://www.nominet.uk/over-28000-domains-suspended-as-law-enforcement-and-industry-keep-uk-safe/
The infographics can be seen on the official website Nominet.uk, where you can find the complete report.