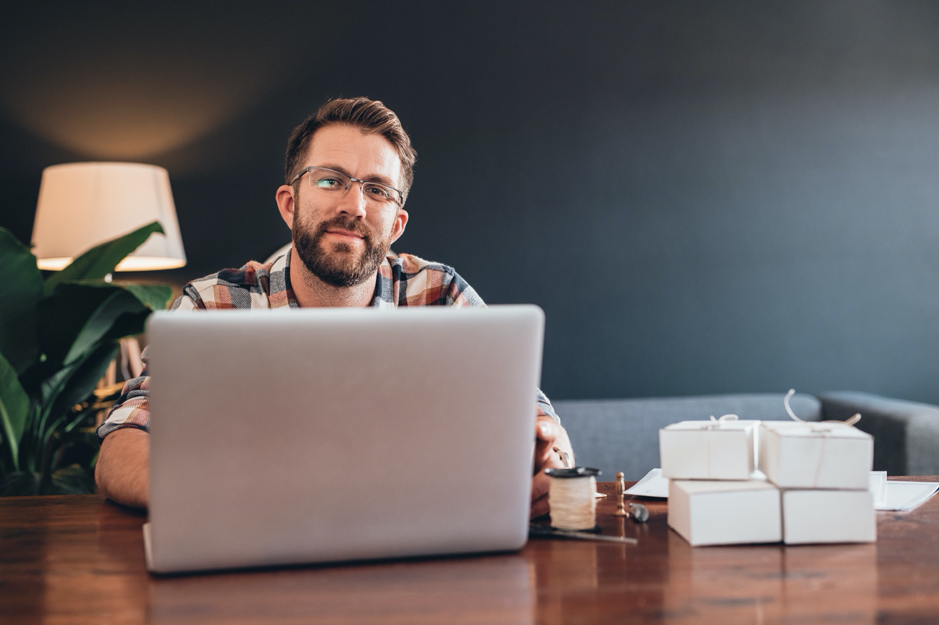 Are you building a new online presence for your business? Are you in the process of giving your current business a complete makeover? Either way, goes without saying that you'd want to stand out from the competition and make a lasting first impression in the minds of everyone who comes across your business. The best way to imprint your business in the minds of people is to choose the right name for it.
However, in the online world, your domain name happens to be one of the first touchpoints for people to get a glimpse of what they can expect from your website or what your business has to offer them. Think about it; your domain name will be printed on your visiting card, email signature, social media descriptions and call to actions, and even on offline ads.
Ideally, what you need is a unique and memorable domain name that is an exact match with your business name. A smart way to find the perfect domain name for your business is to register a distinctive and brandable online identity with the newly launched .cyou domain extension!
What Is .cyou?
.cyou is an uber-cool new domain extension crafted specially for creative individuals and innovative brands of today. .cyou stands doubles up as a smart abbreviation for the phrase "See You," and makes for a great fit for the tech-savvy individuals and digital businesses of today. The .cyou domain extension is perfect for Gen Z and those who share the ethical values of diversity, inclusivity, and independence.
The .cyou domain extension gives social media influencers, internet personalities, and thought leaders an opportunity to register a brandable name to monetize their talents and passion on the Internet. The .cyou domain extension is also well-suited for businesses that want to add a modern twist to their identity so as to appeal to younger, Gen Z audience groups.
What Makes .cyou Unique?
In less than a month of its launch, .cyou has become one of the fastest-growing new domain extensions on the planet! Couple this with its smart positioning for Gen Z individuals and brands, and .cyou makes a strong case for being a unique, distinctive, and definitive choice.
To add to that, here are the top six reasons that make .cyou a unique domain extension.
Names with .cyou Are Meaningful and Memorable
.cyou is a brand-new domain extension and this means there is a vast pool of short, meaningful, brandable, and exact-match names up for grabs. Usually, meaningful and memorable names are not readily available with other domain extensions. Furthermore, .cyou offers a creative twist to otherwise unimaginative domain names.
Names With .cyou Are Dynamic and Versatile
.cyou is a truly generic domain extension. It is free of any usage limitations that arise out of geographic restrictions or language barriers. Any individual or business from any industry vertical can use a .cyou domain extension to denote their presence on the Internet. This makes .cyou a highly dynamic and versatile domain extension.
Names With .cyou Are Innovative
.cyou is the newest of new domain extensions and this makes it an innovative choice. Registering a short and easy to remember .cyou domain name shows that your business is pushing the envelope when it comes to being innovative. Also, .cyou adds a touch of innovation and modern twist as compared to other uninspiring names.
Names With .cyou Are Brandable
The ready availability of short, contextual, and easy to remember domain names on a unique and distinctive domain extension makes .cyou a brandable choice. .cyou offers new businesses, brands, and personalities a chance to choose a slick, highly brandable name that can give leading titans a run for their money.
Names With .cyou Are Scalable
The .cyou domain extension is positioned in a way to target younger audiences and Gen Z age groups. .cyou's unique positioning gives its users a chance to scale their reach and appeal to new and younger audiences.
Who's Using .cyou?
Numerous noteworthy businesses, and marquee brands have registered their trademarks with .cyou. For instance, marks such as iphone.cyou, ipad.cyou, gmail.cyou, android.cyou, amazon.cyou, facebook.cyou, twitter.cyou, among others have been registered by their rightful owners.
Several short, meaningful, and definitive names like paul.cyou, eric.cyou, weather.cyou, rain.cyou, training.cyou, menu.cyou, blockchain.cyou, online.cyou, wanna.cyou, cant.cyou, must.cyou, ican.cyou, and more have been registered.
Early-bird buyers like Pia Jensen, founder of Italian Sport Tours, got the chance to secure a short and easy to remember ist.cyou domain name for her new tourism business website. When asked about why Pia chose the new .cyou domain extension, she said, "I think the .cyou domain is great since it's easy to remember and very appealing. But moreover, it's a fresh new domain, and I think it's very chic. I really do like it. This is why I think it will be a big success, and in fact, I will actually ask ShortDot to register www.imt.cyou for our Italian Music Tours brand."
Why Registering .cyou Is A Valuable Proposition?
If getting the name of your choice wasn't incentive enough, you can now register a .cyou domain at $1.99* and renew it at $0.99*! Pretty cool, right? What's even better is that you can get multi-year registrations at a super low cost.
For example, if you register a .cyou domain for 3 years your total cost would be: Registration + Renewal + Renewal = 1.99* + 0.99* + 0.99* = $3.97*. Such registrations increase value to you.
*Price promo is valid until 2020-12-31
How To Use Your .cyou Domain Name?
Here are a few effective ways to name your website with a .cyou domain name:
cyou (e.g. www.watchfinder.cyou)
cyou (e.g. www.brightshirts.cyou)
cyou (e.g. www.casualwear.cyou)
cyou (e.g. www.smartglass.cyou)
cyou (e.g. www.homedelivery.cyou)
Product+Geo.cyou (e.g. www.italiantours.cyou)
cyou (e.g. www.staystrong.cyou)
cyou (e.g. www.seeyouwhenwe.cyou)
cyou (e.g. www.michael.cyou)
cyou (e.g. www.kevindillon.cyou)
Given its unique characteristics, the .cyou domain extension makes for a brilliant and creative choice for today's generation of savvy businesses, brands, and individuals.