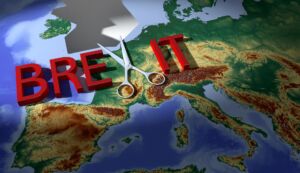 We all know that United Kingdom finished exit from EU on 1st of January 2021. This fact brought many things on political table, but more important for us – this round date, forced by politicians, brought New Year's fun for us, .EU accredited registrars.
In order to solve Brexit, and adjust ruleset for .EU TLD, EU registry gave some simple solution, that turns out to be a nightmare in some cases. The main decision that registry made in the ruleset for .eu is that ANY .eu domain names that are linked to UK based registrants that had not been updated have been suspended from 1st of January 2021.
No worries, GB citizens, the domain names are still registered, but the DNS is not working – so your websites, emails or whatever service you might have linked on those domains – they have stopped working. Further, the decision to suspend those domains on non-working days, a "political wish" of round date, is something that all registries should avoid. Especially if they combine suspension of domain names with further requests: accredited registrars MUST write an email to their support in order to make changes and un-suspend those domains.
If your .EU domains are affected, you can do the following:
If you're a citizen of an EU country (or Northern Ireland) you can request that we add the citizenship status.
If you have an address in the EU that you can update your domain to use that address.
If you aren't an EU citizen of an EU country please let us know and we can discuss options
Anyway you choose, you MUST let us know about changes and contact us, because .EU registry have asked for additional manual work: they are asking us to write them email with changes for any particular domain name.
Many registrants were not aware of those changes, even after many explanations from EU registry and us as well. There are many domain names affected. Even if the registrants react quickly and change the ownership of affected domains, there is no fast solution – because of New Year's non-working days, after which registry support staff will start to "swallow" emails one by one, manually.
Any manual job is just "eating" time – so, please be patient and wait couple of days, the issues will be solved.
Eventually.