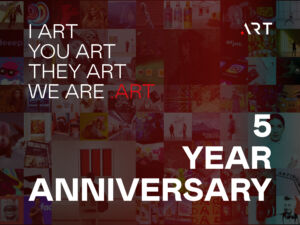 In the last 5 years since its launch, .ART has become the most popular extension for creatives and has a stable place among the top-5 fastest growing domain zones – all through organic growth and remarkably high renewal rates. Its 200K+ community includes creative organisations and personalities as well as industry giants including the Louvre, Marina Abramovic Institute, Los Angeles County Museum of Art, Institute of Contemporary Arts of London, Amazon, Bank of America, Mercedes, Pixar, Kickstarter, Vivienne Westwood and many others. 
A website on .ART can be anything: a point of entry for all social media accounts, an online portfolio, a marketplace that generates a revenue stream or a cool name for your NFT. As a website owner you are the only one deciding on its content, which is especially important in times of censorship and other institutional regulations.
Here's why so many different personalities and organisations choose to be united under the .ART umbrella. 
Make impact with a domain name
None of us had the ability to choose our given names, but it's a whole other story with your digital identity. .ART offers a solution that not only gives you the ability to use your own name, but also instantly connects with the art world. .ART domain ending defines you as an artist before anyone even visits your website, and this is a distinct advantage. By choosing yourname.art for your website, you create a point of entry for all the enquiries about your professional background, work, and projects. And you can finally stop worrying about aligning all your media platform profile names.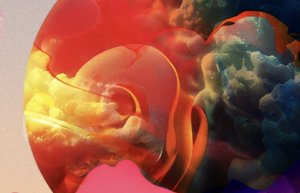 Enhance your online presence
The services provided by .ART go beyond digital identification. This applies whether you use traditional artistic mediums or play around with digital, crypto and VR art, or NFTs. .ART domains have the possibility of Ethereum integration to be used as easy-to-remember crypto addresses, making them an inherently all-in-one product. You can also simply link all your existing media accounts to one domain address, which is an excellent DIY marketing trick that also saves trees. Why print business cards if you can have a digital one?
Using the .ART domain ending can also enhance your search presence. According to a study from The Domain Name Association (dated April, 2017), the relevance of the words in the domain name and extension helps web pages to rank better for specific keywords. The study also found that having a relevant domain name extension (like .ART) means that you need fewer inbound links to rank in top page search spots than you would using the more traditional .com ending. Even if you already have a website using .com, you can still obtain a .ART address and simply point that address to your existing site. This gives you more ownership of your name in the online space.
Moreover, there is the added benefit of a psychological shift. Using the word "art" in your website address automatically puts visitors on notice that your business is a creative one. This is a simple but effective marketing tool built right into your online presence.
CASE STUDIES
In light of .ART's 5 year anniversary celebrations, we spoke to some of its adopters and found out what shifts they are observing in the art and digital worlds, as well as what led them to choose a .ART domain for their work. 
S
hantell
Martin
– S
HANTELLMARTIN
.ART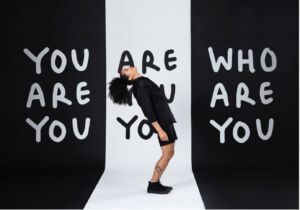 Shantell Martin, an artist who's also been with .ART since its inception, has had a very eventful few years. She choreographed her first ballet at Boston Ballet, did a collaboration with the Whitney Museum Shop, a show with Kendrick Lamar, took over all the screens of The Oculus in World Trade Center and created May Room, a space for contemplation and peace on Governor's island. She reflects on the development of digital space that has taken place since: "People have a more digital presence than five years ago. The definition of "being online" has changed immensely, and now this encompasses AR, Discord, NFTs, etc. It's so many more things than it used to be."
Steve Miller – STEVEMILLER.ART
Steve Miller is a multimedia artist and one of .ART's early adopters. The last 5 years offered him the opportunity to publish a trilogy about art, technology, and the environment.  The newest book Surfing the Cosmos (to be released in Summer 2022) completes a three-part series launched in 2017 with a focus on the environment. All of the books of the series fall under a project entitled Health of the Planet for which he securedHEALTHOFTHEPLANET.ART and a US trademark. After staying true to his .ART identity all these years, he explains: "As the domain space heats up with a plethora of options, it's important to have a clear identity. .ART is explicit in foregrounding the importance of the content. You come to .ART for a deep dive into creativity and innovation." 
Hohmann Art Gallery and Advisory
–
HOHMANN.ART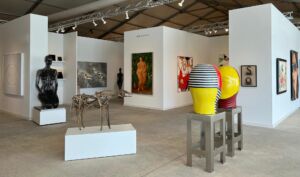 Christian Hohmann, President of HOHMANN, Inc., shares what he sees as a current issue of the otherwise synergetic marriage between art and digital: "As a community we have not yet learned how to translate the in-person experience of going to a gallery or an artist studio into a similar digital experience. I wouldn't welcome clients to the gallery, immediately drag them into my warehouse and show them every single work of art by every one of my artists, right? We need less volume and more quality.  He adds, however, that "It is increasingly hard to remain relevant if your digital presence doesn't match your physical presence, because fewer people will actually come to the gallery before making a buying decision." 
Listings platform JOBS.ART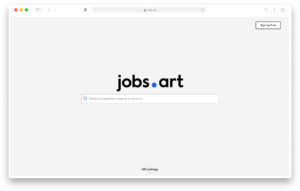 Jobs.art was created by Art Handler—the first publication to make the inner workings of the art world its focus.Jobs.art attracts employers from across the industry and globe and aims to connect skilled applicants to the best museums, galleries, curators, and other art handling positions. Clynton Lowry, founder of jobs.art, says: "Essentially, .ART has provided half the marketing for us. It's like the readymade, but for online identities."
Kickstarter platform – KICKSTARTER.ART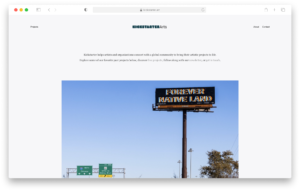 To date, the Public Benefit Corporation Kickstarter Arts has raised more than $290 million for over 76,000 artistic projects across the art, dance, photography, and theatre categories.  The team behind Kickstarter comments: ".ART allows us to speak directly to the arts community in a more targeted and focused way."